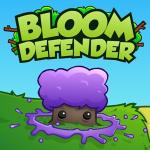 Bloom Defender
Bloom Defender at Free Games Online: Defend Mother Tree from hundreds of evil spirits! Build an army of plants to stop them in their tracks.
Grow unique defensive trees along the paths leading to the Mother Tree to protect it from elemental spirits. Be strategic and cast powerful spells to weaken the elemental spirits and affect their behavior. You must purge them before they reach the Mother Tree!
Bloom Defender is a light strategy game in which Mother Nature lost her balance and evil spirits must be fought. Protect the last Mother tree and plant trees on the path to it or clean the bad energy with the help of magical spells.
Have fun with Bloom Defender.
Controls: Mouse
www.freegamesonline.games
Rating:
5
out of
5
based on
1
user ratings