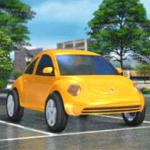 Car Park Challenge
Find a free parking space for non-handicapped people and park your car before time runs out. Don't hit shopping carts or vehicles.
You know that it's very difficult to find a place to park your car in shopping centers. In this game you can show us your challenge to find a place in such busy parking area! Before starting to game, you can enter your name and change the colour of your car! Avoid getting damaged by shopping trolleys!
Take the Car Park Challenge and drive your vehicle as fast as you can through the streets to find a good space to park your car. Much fun at http://www.freegamesonline.games/!
Controls:

Use your arrow keys to play this game
www.freegamesonline.games
Rating:
5
out of
5
based on
3
user ratings