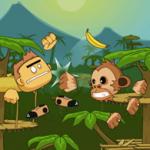 Chaos Faction 2
Play Chaos faction 2 on http://www.freegamesonline.games/! Battle your way through 15 campaign levels with tons of weapons, characters, moves, and more explosions than you can shake a stick of dynamite at!
Take your time for some cool smashing action! As some evil gangs spread chaos and destruction wherever they go it's up to you to save the day. Customize your hero, select your fighting arena and get ready to rumble either in campaign, deathmatch or survival mode. Your goal in Chaos Faction 2 is to fulfill various missions in which you have get rid of hordes of increasingly mean enemies at all costs. How long can you withstand the attacks?
You do not have to spend as much time as before and still finish your game the best way. We update the most exciting game world players today. Many players have chosen our website to participate in their free time. You can join other similar games in your spare time like Penguin Wars and Stickman Warriors. New content of other games will bring you to new discoveries. Join now!
Much fun!
Controls: Arrows = Move / Jump / Shield, Z / X = Attack, D = Drop Weapon
www.freegamesonline.games
Rating:
5
out of
5
based on
5
user ratings