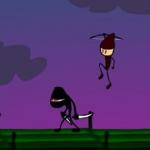 Death Ninja
Death Ninja is a fantastic action game. Death Ninja has challenging gameplay and retro graphics. Your mission is to use two sharp katanas to fight the death.
Take on the role of the masked ninja and go on your ramble of death in the cool action game Death Ninja. Armed with two sharp katanas it's your mission is to hack and slash your enemies before they can kill you with arrows.
Online game players all over the world are choosing their favorite games to save on the list of games you can join in your free time. Game tips are saved until you need the help of the game. Share with your friends and tell them the different ways that you have passed the most difficult levels so they also have basic experience when they first start playing this game. We open up the world of new games similar to this one for you to explore in your free time like Rage Blade and Straw Hat Samurai: Duels
Much fun.
Controls: Arrows = Move / Jump, Space = Attack
www.freegamesonline.games
Rating:
1
out of
5
based on
3
user ratings