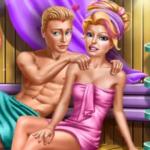 Ellie And Ben Sauna Flirting
Ellie is looking for a way to relax today, so she is going to the sauna. First she has to take out all of her metal jewelry. Then she can hop in the shower so her skin can be clean before the sauna. You should also use an electric razor to help her shave her armpits. Wrap her up in a towel and give her some comfy slippers and she can finally go in. Here she meets a very cute guy named Ben.
Prep the sauna for them by heating up some volcanic stones, add some aromatic oils and pour water on them so they can start creating steam. In the meantime you can also help the two of them flirt with sweet things whispered in their ears, a gentle massage and even a romantic kiss. Help them wipe their sweat between sessions. Have a great time playing this game!
Introduce this game to playmates and assess it. What do you think about this game? Send us remarks and reviews. Discover games Frozen elsa birth caring and anna tattoo shop at https://www.freegamesonline.games/
How to play? Use the mouse to play this game.
www.freegamesonline.games
Rating:
3
out of
5
based on
1
user ratings