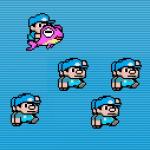 Enough Plumbers 2
Move and jump around the platforms to collect coins and create lots of clones! Find special items to give one of your plumber clones unique abilities, control them simultaneously and reach the exit flag in each level. You can have more than enough plumbers, and sacrifice some of them in order to achieve your objective!
Face off the danger deep inside the canalization in enough plumbers 2, the next installment of the funny platform game. Flush yourself down the toilet and find your way to the flag in each stage.
But take care, your missions feature tons of traps and enemies and you will need a team of many plumbers to pass all the hazard. Collect enough golden coins to create clones of yourself and control them all simultaneously.
Also from this series: Enough Plumbers
Much fun at http://www.freegamesonline.games/!
Controls:

Arrows / WASD = Move / Jump
www.freegamesonline.games
Rating:
2
out of
5
based on
2
user ratings