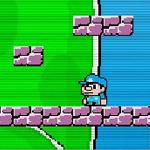 Enough Plumbers
A puzzle platformer about clones cloning clones that's totally not a reference to anything.
Enough Plumbers is a funny puzzle platformer. Create clones of your plumber and control them all simultaneously in order to reach the flag to complete each level. Press arrow keys to move. Create clones by collecting coins. Don't worry about saving every clone. One is enough!
Rate the game highly to express your emotion to our effort. Share it with your relatives to have fun together in the free time. Play more related games if you want at http://www.freegamesonline.games/
Controls

Move and jump with the arrows, and remember you can reset with space or go back to the level select screen with the arrow in the top-right.
www.freegamesonline.games
Rating:
4
out of
5
based on
3
user ratings