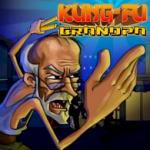 Kung-Fu Grandpa
Kung-Fu Grandpa, These thugs just messed with the wrong grandpa. Wanna help him lay the smack down?
Have you ever seen old people kick some guys ass? Kung-Fu Grandpa is so angry about the rude gangsters that he wants to fight them all. Help him and beat down the baddies along the street. Collect all cash to buy upgrades and use the energy drinks to empower your special abilities.
Help the mad kung-fu grandpa to clear the scum off the streets! Use Arrow keys to move. Z,X,C to Attack. Space bar to jump.
Want to play more escape games? Here are some recommendations for you: Ninja and Blind Girl 2 and Siegius Arena. Or if you want to try other types of games, check out at our site http://www.freegamesonline.games/ and you can easily find out what you need just with a few clicks.
Have fun.
Controls:

Arrows = Move, Space = Jump, Y = Hand Punch , X = Leg Kick , C = Use Special Power
www.freegamesonline.games
Rating:
5
out of
5
based on
5
user ratings