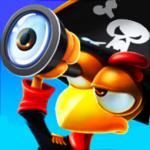 Moorhuhn Pirates
Today in the game Moorhuhn Pirates we will go with you to the famous island, which is the base of pirates of turkeys. They rob ships and the nearest inhabited islands and became very insolent. You must destroy this hotbed of crime. Taking your faithful gun in hand, you will swim by boat to the island.
Of course, pirates will notice you and start flying to their ship to hide. Van need to aim at them and as soon as he fixes on the target to shoot. When hit in ind. Ka you will give points. Remember that your shotgun has a limited number of charges so recharge your weapon in time. To go to the next level you need to fill as many points as possible.
The popular Moorhuhns arrrgh back! Shoot all the chickens you can in this funny shooting game Moorhuhn Pirates. Earn points for every kill and try to discover all the secrets of this pirate island. The farther they are, the more points you will earn, so don't get stuck with the nearest birds or you won't get a good score.
We recommend you to play similar games to "Moorhuhn Pirates" like: Damn Birds 2 and Crazy Goat Hunter at http://www.freegamesonline.games/
Have fun with Moorhuhn Pirates!
Controls:

Mouse = aim / shoot, Space = reload
www.freegamesonline.games
Rating:
2
out of
5
based on
1
user ratings