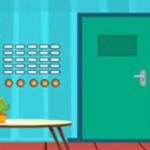 Office Door Escape
Office Door Escape is an online game that you can play on https://www.freegamesonline.games/ for free. Office works are never ending. You just want to have your day off after this long day. You don't want to think about work on your day-off so you made sure that you finish all your work today. With that, you worked at the office overtime. After long hours of working, you finally finished all the reports.
You can now go home and take your well deserved rest. However, there is another job that you need to do before you can go. That is to find a way to escape from the office because the door won't open. All of your officemates went home so there is no one that can help you out. With that, you have to use your own logic and find your own way to escape. Thankfully, there are loads of items in the room that you can use to unlock the door.
You're so focused on your work that you don't notice your co-workers leaving the office. Finally, you find yourself locked in the office. You need to look for some hidden object to solve some interesting clues to escape.
In addition, we also update the latest racing games for players to join and explore such as Block! Hexa Puzzle Online and Happy Glass Online. Will you start your journey now
Good luck and Have fun.
www.freegamesonline.games
Rating:
2
out of
5
based on
4
user ratings