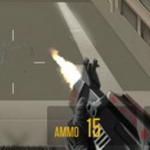 Palisade Guardian 3
Palisade Guardian 3 is an online game that you can play on https://www.freegamesonline.games/ for free.
Do you have what it takes to fend off the alien invasion?
Play the third installment of Palisade Guardian, a highly addicting shooting game. Take over the role of the brave hero and protect your city from invading hordes of aliens. Shoot with your gun and try to kill all creepy attackers before they can reach the fortification wall. Earn money and shop tons of upgrades.
In addition, we also introduce players to special action games such as The Valley Rule and Shoot Robbers. Each of the different game content will help you develop special skills and useful lesson. You will really finish your game the best way.
Good luck!
Controls
1. Click to shoot.
2. Spacebar to aim down your gun sight.
3. Power-Ups: Buy Power-Ups before you start a round, and then click the Power-Up icon in the top left of your screen. Select a target for your Power-Up if prompted.
Bắn cướp
Quy tắc thung lũng
www.freegamesonline.games
Rating:
5
out of
5
based on
4
user ratings