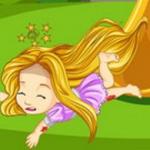 Rapunzel Playground Accident
Rapunzel Playground Accident is an online game that you can play on games online for free.
Oh no! Poor little Rapunzel has been playing in the yard all day, and has fallen. Her legs hurt a lot, and she is really sad about it. In this amazing doctor game called Rapunzel Playground Accident, you are going to have the assignment of helping poor little Rapunzel get better by taking all of the steps necessary shown in the game.
You will see that it will be a really easy job for you, so that in the end Rapunzel's playground accident will be just a thing in the past. Once you will have completed all of the steps indicated in this fun doctor game called Rapunzel Playground Accident, you will then also get to choose a really cute outfit for Rapunzel to wear.
Share this fun game with your friends and invite them to play. With vivid graphic design, you will feel great to fly in the air. If you love the game you can play more games like Gaga Glam Fashion and Celebs Facing The Fashion Challenge at https://www.freegamesonline.games/. for more fun experiences.
www.freegamesonline.games
Rating:
4
out of
5
based on
2
user ratings