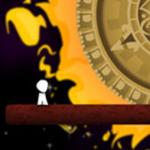 Replaying: The Game
Replaying: The Game is an online game that you can play on games online for free.
Why he has to die again and again? Oh god, not this once more! Replaying :the game is entertaining, comedy and a game entire of action. It is a satirical experience that you will not quickly forget about.
Don't worry, you didn't miss a THING this decade. REPLAYING :the game: has 150 hopping faceless characters, 30 irrelevant levels, 6 original-ish tracks, 5 minutes of wtf cutscenes, a level editor to hack together and spam others with your very own levels, pretentious highscores, pretentious unlockables, and the innovative, what-is-this-i-don't-even Level Playlist feature. And with all this, we will help you relive those moments. Whether you want to or not.
In addition, you also have the opportunity to participate in battles games similar to The Torture Game 2 and Happy Monkey 2. Check your own world and know how to become the winner.
Control:
Usually arrow keys. Sometimes mouse.
Not microphone. Never webcam. Definitely not accelerometer. Gastric biochemical sensors are right out.
www.freegamesonline.games
Rating:
1
out of
5
based on
2
user ratings