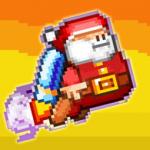 Santa Run 3
Oops! Santa is coming late this year! Help him get back to his toy factory ASAP in this funny platformer game! Use any means possible to go faster in Santa Run 3! Find the bus stop as fast as possible and ride the sleigh to the next level.
Santa Run 3 is funny platformer game with pixel-based graphics. In this free online game, you will take control of our beloved Santa Clause and your goal is to get your self to the toy factory as soon as possible. Although the game has cute graphics and funny animations, the platforming challenge of the game Santa Run 3 is real. Complete each level before the clock runs down and get in time for Christmas. Find hidden shortcuts to save time, get medals and put yourself into the high scores.
Use the arrow keys or WASD to make Santa run and jump. Jump in a vehicle to get in, and jump again when you want to get out. Reach the toy factory in the North Pole before your 60 seconds are up!
You may also like: Rabbit Adventure and Final Fantasy Sonic X1
Controls
WAD / Arrow Keys – Move
ESC – Restart level
Q – Restart game
www.freegamesonline.games
Rating:
5
out of
5
based on
4
user ratings