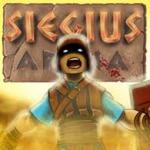 Siegius Arena
Gain fame and fans as you take on the role of a gladiator in Siegius Arena! Enter various arenas, where you will face off against waves of gladiators. Use both melee weapons and spells to deal damage to your opponents and excite the crowd. Exciting the crowd increases your multiplier, allowing you to score more points and earn more stars for each battle. Don't forget to pick up coins from fallen gladiators so that you can purchase better weapons, armor, and spells.
Enter the gladiator arena and fight with no mercy your way through a bloody mess to earn your freedom. Try to survive as long as you can and collect coins to purchase upgrades, armor and weapons.
Share with your friends to find more gaming tips. We give players some similar games with this knight game so you can relax in your free time like Death Ninja and Rage Blade at http://www.freegamesonline.games/
Enjoy Siegius Arena.
Controls:

Arrows / WASD = Move,

Z / X = Attack,

C / V = Use Items,

Space = Activate Ultimate Attack
www.freegamesonline.games
Rating:
4
out of
5
based on
5
user ratings