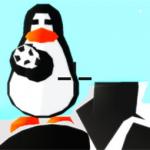 Snowar .io
The Arctic has always been a home for penguins, and in the game Snowar. io snowy spaces turned into a battlefield. You can take part in the battle. Now no one remembers how it all began, most likely because of the little things. But now you can't walk across the Arctic expanses without the danger of being shot down. Come out to the military trail and keep a snow gun at the ready. Any penguin is your enemy, shoot snowballs at him and do not think that it is harmless. A snowball flying at high speed can easily kill the enemy. The same applies to you. The task is to survive at any cost.
It's the time of the year where penguins take over the battlefields and snowballs fly everywhere ending the lives of the weakest. Or a less dramatic way to say it: SNOWBALL FIGHT!!! Snowar .io is a fun first person shooting multiplayer online IO game. Control a cute, but merciless penguin on a battlefield and try to eliminate other players shooting your snowball machine gun. Avoid falling into the water or you will lose. Be the last man standing and show who rules the white and cold winter.
You may also like: SnowBall .io
Have fun with Snowar IO!
Controls: Arrows / WASD = move, Mouse = aim / shoot, Space = jump
www.freegamesonline.games
Rating:
5
out of
5
based on
3
user ratings