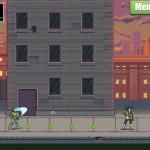 Teenage Mutant Ninja Turtles - Double Damage
The Foot Clan are up to no good again, and they kidnapped April to keep her from revealing their secrets. Hack-and-slash your way into the Foot Clan's operations and save April.
Leonardo, Raphael, Donatello and Michelangelo were named after incredible geniuses of the art, even though their favorite activity is to slay other ninjas and villains and not to paint or draw anything. Their TMNT free games let you pick one of them or control them all against their most common enemies, enough to prepare you to fight the big boss at the end.
This won't be a different one, you must choose your favorite or the one that fits your personality and go after the villains, just don't forget to collect the pizza, their favorite food in the whole world. Play more at free games online.
Use combos and assistance from allies to get an edge over the enemy.
In addition, you can also explore a lot of other similar games with this game in spare time like Match Arena and Candy Bubble
Controls:
Arrow Keys - Move
Up/Space - Jump & Doublejump
S - Special Attack
Down+A - Shell Stomp (while in air)
A - Normal Attack

www.freegamesonline.games
Rating:
3
out of
5
based on
3
user ratings