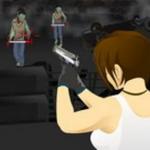 Vanish Rain
Vanish Rain is an online game that you can play on online games for free. In Vanish Rain shooting game a lot people from Riverhead city disappeared on this rainy day. You play Anna, who is one of the last survivors. Help her to defend herself against attacking zombie hordes as long as possible.
Shoot accurate and don't waste your ammo. Try to kill the undeads before they break through the barrier. Upgrade your weapons before the next wave starts.
Hold position behind the barricade as you blast zombies. Earn gold to upgrade & buy new guns.
Don't forget to expand your game world with countless new games today like Action-RPG Starter Kit Demo and Portal: The Flash Version. A new way of playing will help you win this world.
Good luck at https://www.freegamesonline.games/!
Game Features:
- Use up to 15 different weapons
- Fight up to 15 different zombies and a Big Bad Boss
- Challenge your skills with exciting Challenge levels
- Survive 30 days of hell in Survival mode
Controls
Mouse - Aim, Shoot, Reload
SPACE - Reload
Z - Zoom (sniper only)
Keys 1, 2, 3, 4, 5 - Select weapon
Mouse Wheel - Select weapon
www.freegamesonline.games
Rating:
4
out of
5
based on
5
user ratings