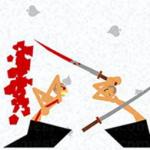 Zazuki
Zazuki: Sword Fighting Game 2 Player, Zazuki is a simple sword slasher 2 player fighting game. Slice your opponent to pieces before he splits you in half!
Katanas are dangerous. Zazuki proves that point to up to two players willing to engage each other in a duel to the death. A game of bluffing, feints and lightning fast reflexes, Zazuki pits you against a friend or the PC for the privilege to slice the other into a few bloody pieces. You will need nerves of steel and the courage of a lion to remain unharmed. A little bit of luck wouldn't be so bad, either.
We are constantly updating new games for players to join and complete challenges quickly. You can explore other games in your spare time like The Perfect Fighter and Drunk-Fu: Wasted Masters. Each world will help you learn the different lessons you can hardly miss.
Enjoy with http://www.freegamesonline.games/
Controls: WASD or Arrows = Block / Charge / Fight
www.freegamesonline.games
Rating:
5
out of
5
based on
1
user ratings